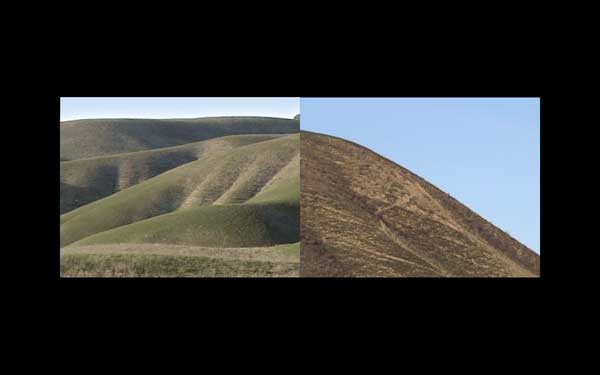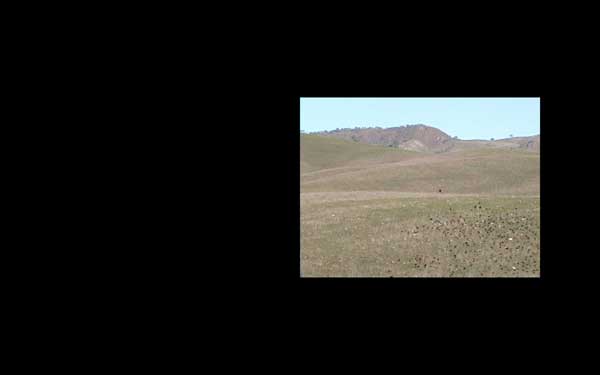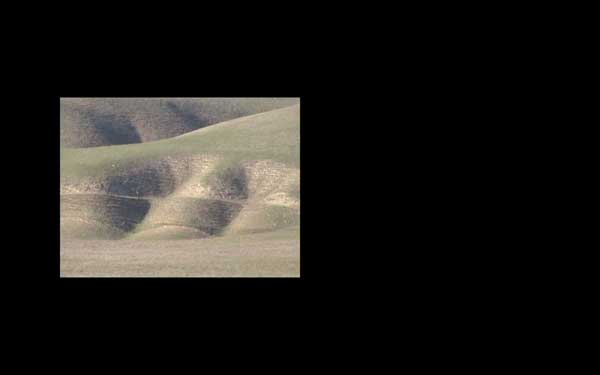 Click here to watch on Vimeo.

EAST
2011, 25 min 9 sec, with audio
Made in collaboration with Alanna Simone, EAST is a split screen video of the land, meant to be projected large to fill a space - or screened theatrically.

Two artists, one camera, looking east. (Everything out west is east.)


Two views and a place -- this landscape which is representative of "The West." The West is ranch land, is countryside crisscrossed with cattle tracks, every inch of it is occupied, worked land. It is a land transformed by cows and grasses brought by the first cattlemen of the Missions. Out west, everything is east. The fantasy prevails of the un-populated wide open space, but people cover the entire expanse all the way coast to coast.

EAST is an experiment with filming the land live, holding the gaze long enough to allow things to unfold, a meditation on the land. Landscape film looks still - but it isn't a still shot - if one looks long enough, one sees the life of it, for land is alive, a living, breathing (if subtle) action environment. It is also a backdrop for our projections, personal and collective. This is made clear by filming and projecting the image of place.

So with this film we turned east and faced the continent and tried to be with the land, what it is, how it is, as well as all it represents. This film is about visiting and standing still in a landscape that we most often drive through at 80 miles an hour.

The question comes up about aestheticizing the landscape by framing the view, controlling the composition. Aestheticizing the land is equivalent to romanticizing the wild - we project human ideas on the lived experience. Is looking at the land (the view) the same as being with it? Well, there is always the chance that if you stand still long enough, your experience will be transformed just by being there with open awareness.

We wanted to continue an exploration we began in an earlier project called Conversations where we juxtaposed photographs we had both taken in the same place or at the same time. Our different perspectives speak to each other visually as in conversation. In this project, we set up a similar logistical framework: to stop every mile along a fifteen mile stretch of road, Highway 25, which runs down a low valley parallel to 101, the freeway which stretches the length of California. At every stop, we each filmed a view to the east of the road for four minutes. Out of that simple structure we gathered the material for this mediated experience of place.